Featured Item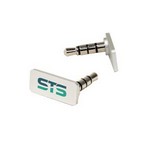 PrivateEars™ Microphone Blocker
The PrivateEars™ is a microphone blocker that protects your personal audio from potential hackers.  Made from aluminum, the PrivateEars™ plugs into the external microphone jack of your device. . Comp...

Welcome!
We are a full service advertising specialties company offering a wide range of promotional items to promote your company.

We help you find a cost effective way to market and promote your business with custom promotional items that speak to your customers and clients.

With the number of companies we work with the possibilities are only limited by your imagination.

If you have any questions, please feel free to contact us. Thank you and enjoy!